The energy and materials sectors could struggle over the next few years as inflation and aggressive interest rate hikes lead to a sharp global slowdown, an economist at Capital Economics has warned.
The S&P GSCI energy SPGSEN spot index,
+4.00%,
which tracks the prices of oil and its derivatives, peaked on June 9. Although it is still trading up over 40% year-to-date, it is down 17% since its peak. Industrial metals also pulled back from their peak by about the same amount, noted Oliver Allen, senior market economist at Capital Economics, in a client note Tuesday.
This is not good news for the energy and materials sectors.
"While we doubt they will fare as badly as they have in recent weeks, we still expect the energy and materials sectors of global equity markets to underperform over the course of the year. for the next two years," Allen wrote. "Fear that high inflation and the sharp interest rate hikes needed to address it could lead to a sharp global slowdown has sent industrial commodity prices falling in recent weeks."
Earlier this month, growing recession fears and a drop in energy demand led to a slump that sent the benchmark for U.S. crude below $100 a barrel and into a bear market. Oil rebounded on Monday after Saudi Arabia, the world's top crude oil exporter, signaled it was not ready to significantly increase production following President Joe Biden's visit late last week, but that she was under pressure again during Tuesday's session.
West Texas Intermediate crude for delivery in August CL00,
-1.93%
CL.1,
+1.39%
CLQ22,
+1.39%
fell 1.3% to $100.72 a barrel on the New York Mercantile Exchange on Tuesday afternoon, while September's global benchmark Brent BRN00,
-0.04%
BRNU22,
-0.04%
fell 1.2%, to trade at $107.45 a barrel on ICE Futures Europe.
Energy stocks are strongly correlated to the price of energy commodities, and oil in particular. As oil soared in the first half of the year, hitting 14-year highs in March, the energy sector also rallied. It remains the best performing sector in the S&P 500 with a gain of nearly 30% year-to-date, but has fallen more than 21% from its peak. The S&P 500 SPX,
+2.53%
is down about 17.6% since the beginning of the year.
Indeed, a strong correlation to crude oil prices can be a double-edged sword, as energy stocks have significantly underperformed as crude has weakened, Allen said.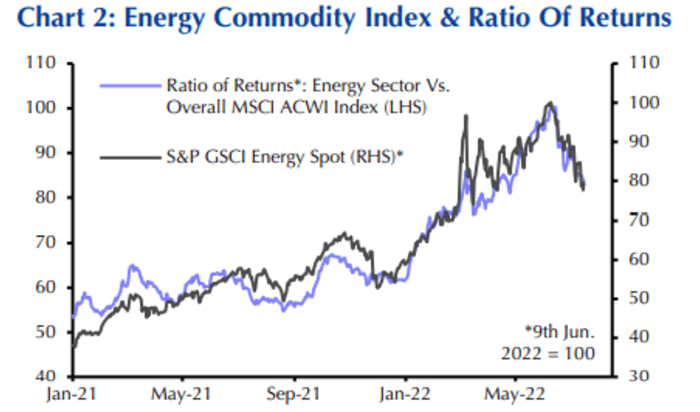 "We suspect that energy stocks will underperform the broader stock market somewhat further over the next few years as oil prices decline," Allen wrote. "While sanctions against Russia complicate the picture, we envision an environment in which demand growth generally slows, at the same time as oil supply, particularly from the United States and OPEC+, gradually increases. from current levels. We expect the price of Brent to decline by [around] 105 bps (per barrel) right now, to 100 bps by the end of this year and 80 bps by the end of 2023."
However, the relationship between industrial metal prices and materials inventories is often weaker, according to Capital Economics. Rising metal prices are partly attributable to rising production costs driven by soaring electricity prices, which put pressure on companies' margins and performance.
The materials sector has underperformed the broader S&P 500 so far in 2022, down 17.9% year-to-date.
Copper HGU22,
-1.78%
last Friday fell to its lowest level in 20 months as recession fears and weaker-than-expected Chinese GDP and trade data continued to weigh on industrial metal prices. China is one of the largest consumers and importers of refined copper and relies heavily on copper resources to meet its demand for construction and production of electric vehicles. Capital Economics economists are optimistic about the outlook for the materials sector.
"Admittedly, we do not expect further significant declines in industrial metal prices, partly because we believe China's metal-intensive economy has now passed a cyclical low and because we expect energy input costs , particularly in Europe, will remain very high, as gas and coal prices remain high," Allen said. "Even so, we believe the Chinese economy will stabilize, rather than rebound, along with demand elsewhere is weakening.While high production costs may support metal prices, they would also continue to weigh on profits for materials companies.
Read more: Energy and commodity prices will remain high during the energy transition, says Invesco's chief investment officer for value stocks